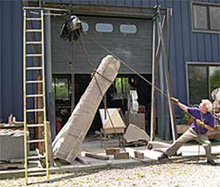 Large-scale sculpture projects installed throughout the USA.
These works range from my first % for Art commission, POLARIS, for MetroDade and the Public Library in Homestead, FL, to a more recent Ohio Arts Council % for Art project, two fountains for the Medical College of Ohio in Toledo.
Many of these works utilize stainless steel, but several are in bronze and others painted steel. All of these sculptures were created and designed in response to the specific requirements of their intended situation.